Excursion to Erice from San Vito lo Capo or Trapani
Erice is a mountain behind Trapani whose history takes you back in time.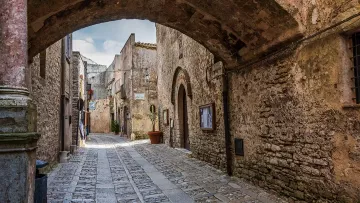 According to Thucydides, Erice was founded by the Trojan exiles, who fleeing to the Mediterranean Sea would have found the ideal place to settle there and united with the native population would then have given life to the people of the Elimi. Its name derives from Erix, a mythological creature killed by Heracles, dedicating the name of the mountain to him after his tragic defeat.
Among the symbolic monuments of the city we have the Castle of Venus, a Norman stronghold, built on the ruins of an ancient Elymian temple. Erice was once known as the " city of a hundred churches and convent ". Today it is possible to have access to many of them and among the most famous and important we have the Real Chiesa Madrice Insigne Collegiata, also known as Duomo Erice.
There are many traditions that over the years continue to live together with the people of Erice. Among the most famous we have the patisserie, where you can taste the best Genoese in the world together with almond biscuits.
Another ancient tradition is the art of carpet weaving, carried on for generations with scrupulous attention to detail and finishing.

There are so many attractions to see during your excursion and you will be enchanted by the indescribable beauty of this mountain, by the story it tells and by the people who live there.
Program
1

Departure from San Vito lo Capo in Via Piersanti Mattarella 33 at 09.30

2

Stop in Trapani in Via Ammiaglio Staiti 69 at 10.30 to pick up hikers

3

Arrival in Erice scheduled for 11.00 with a stop, visit of the medieval town, Castle of Venus, tour of the Churches, Typical Erice pastry and carpet weaving Erice

4

Return to Trapani scheduled for 15:00

5

Return to San Vito Lo Capo scheduled for 16.00
With the participation fee you will have transport by bus A / R, qualified driver, guide, fuel and VAT. Entrance fees, extras, tips, meals and drinks are not included
What to know before starting the excursion
Single ticket - Venus Castle, Pepoli Tower, Spanish Quarter, A. Cordici Museum Complex, Erice in miniature
Full 4.00€ - Reduced 2.00€
Single ticket - Real Duomo, Tower of King Federico, Ruins of SS. Salvatore, Church of San Martino, Church of San Giuliano, Casa Santa Sales
Full 6.00€ - Reduced 4.00€
Your tour through the streets of Erice awaits you. Experience the unique emotion of a journey through time.
Do you need help? Contact us for information and assistance
I TRE GOLFI is pleased to provide tourist information and assist ON-SITE users in planning their vacation in San Vito lo Capo and western Sicily.