Half day excursion by boat to the Zingaro Reserve and Scopello
Discover the wonderful Sicilian coast during your half-day mini-cruise, a splendid boat excursion to Riserva dello Zingaro and Scopello and all the nearby coves and glimpses that enrich this panorama.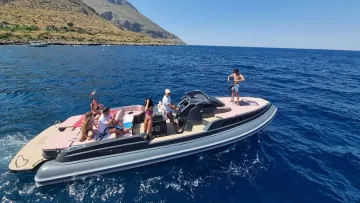 With this boat excursion it is possible to have fun and relax at the same time, always with maximum comfort between a dive and a bit of snorkeling.
Our excursion to Scopello and the Zingaro Reserve by boat will be aboard a fantastic and comfortable Noah 33, able to keep you in close contact with the nature that surrounds you and on the edge of the blue, clear and crystalline waters, making you the protagonist and spectator of the wonders that the panorama offers during navigation.
Boat excursion itinerary
1

Departure from San Vito lo Capo at 9:30

2

Stop at the Saracen Towers

3

Stop at the Tonnara di San Vito

4

Stop at Firriato

5

Stop at the Lake of Venus

6

Stop at the coves of the Riserva dello Zingaro

7

Stop at Tonnara di Scopello

8

Return to San Vito lo Capo scheduled for 13.30
Saracen Towers have sighted and defended the Trapani coasts from pirate attacks; in the Tonnara di San Vito tuna was fished and processed after the Mattanza until 1969; Firriato is a coastal forest loved by climbers for its cliffs overlooking the sea; the Lake of Venus is a natural swimming pool in the Firriato with clear and crystalline waters; the Coves of the Riserva dello Zingaro, from Cala Tonnarella dell'Uzzo to Cala Capreria; the Tonnara di Scopello is a piece of local history among stacks, crystal clear waters and tuna processing plants.
In all the stops, during the excursions to the Riserva dello Zingaro and Scopello, you can take advantage of the totally free equipment for snorkeling in the crystal clear waters, made available by our Skipper.
You will be able to discover the splendid Sicilian coasts, the flora and fauna that inhabit its depths and enrich them by creating a unique show of its kind. Along with this wonderful view, you will be offered a tasty aperitif on board with our products local.
The Zingaro Reserve excursion by boat includes the rental of the dinghy, the Skipper, the fuel for the boat, the awning, the use of fresh water, aperitif and drinks such as water, beer, wine and prosecco, bluetooth stereo, fins and masks, mooring and port charges, third party insurance and final cleaning. Anything not previously specified is to be considered extra.
We are waiting for you in a rubber dinghy to start the adventure together on our Zingaro Reserve and Scopello boat tour!
Do you need help? Contact us for information and assistance
I TRE GOLFI is pleased to provide tourist information and assist ON-SITE users in planning their vacation in San Vito lo Capo and western Sicily.