Private aperitif on the boat: Dinghy excursion at sunset with aperitif!
Come and live an unforgettable experience with our raft excursion at sunset, an exclusive experience that will lead you to discover the suggestive coast of San Vito lo Capo and the picturesque Makari area, with a special stop in the splendid Bue Marino bay . This exciting sunset dinghy excursion is suitable for everyone: families, friends and even couples looking for romance, all you have to do is bring your desire for adventure and fun with you!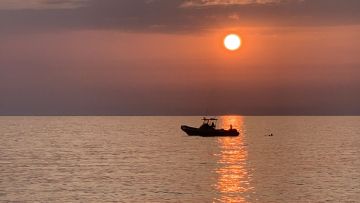 Sunset at sea is a magical moment, and what could be better than enjoying it comfortably seated on our dinghy, surrounded by the beauty of nature and the spectacle of the sun dipping into the horizon? Our excursion is designed to offer you a unique and relaxing experience, where you can admire breathtaking views, swim in the crystal clear waters and enjoy a delicious aperitif in the company of friends, family or your sweetheart.
We will leave from the picturesque port of San Vito lo Capo, where we will board our dinghy and get ready for an evening to remember. Sailing along the coast will take us to Makari, an enchanting place with sheer cliffs and hidden bays.
Our special destination is the Bue Marino bay, a real corner of paradise. Here, you can enjoy your aperitif at sunset. We will prepare a selection of drinks accompanied by tasty appetizers and prepared with fresh and local ingredients. Enjoy a sip of your favorite drink while admiring the warm colors of the sky at sunset and the sea tinged with golden hues.
Our crew will be at your disposal to ensure maximum safety and maximum comfort throughout the trip. We have extensive experience in the area and are passionate about our land, ready to share stories and curiosities about the coast and its hidden treasures with you.
Join us for an aperitif on the boat at sunset and live a unique experience in the wonderful setting of San Vito lo Capo and Makari. We look forward to welcoming you on board and making you experience a magical evening. Book now and get ready to create unforgettable memories with us!
What is included in the San Vito Lo Capo boat excursions:
Skipper
Taxes and management fees
Fuel
Aperatif
What is excluded in the aperitif on the boat:
Departure and arrival details
Departure: 19:00
Arrival: 21:30
Departure: Check in point at Agenzia Mooway Via Mattarella 33, departure from "Costa Gaia" wharf Via Faro, San Vito Lo Capo
Do you need help? Contact us for information and assistance
I TRE GOLFI is pleased to provide tourist information and assist ON-SITE users in planning their vacation in San Vito lo Capo and western Sicily.