Zingaro Nature Reserve excursion by boat, half day
Live an unforgettable experience along the enchanted coasts of San Vito Lo Capo! Let yourself be carried away by the magic of a fantastic half-day Zingaro Reserve boat excursion.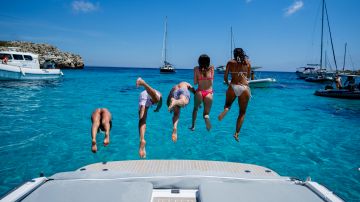 Wonderful Zingaro Reserve boat tour
We will start from San Vito Lo Capo, an enchanting place where the crystal clear sea and white sandy beaches are the protagonists. On board our comfortable and safe dinghy, we will sail the cobalt blue waters and begin a journey that will lead you to discover authentic natural wonders and ancient historical treasures.
Along the coast you can admire the majestic Torre Scieri and Torre Mpiso, ancient watchtowers that preserve centuries of maritime history. A real blast from the past! Continuing, we will approach the legendary Tonnara del Secco, witness of a distant time. Our Riserva dello Zingaro tour will continue towards Lago di Venere, a natural gem formed following the collapse of a large rock face; rolling boulders have created this body of water that is always calm.
Once you reach the spectacular Riserva dello Zingaro you will be overwhelmed by the wild beauty of Cala dell'Uzzo, where the encounter between the typical local vegetation and the crystal clear sea creates an unparalleled atmosphere. Will you have the opportunity to swim inside the Grotta degli Innamorati too. A romantic refuge, where the sea sweetly sings its eternal love on the rock.
After that, we'll reach Cala del Leone, a private and charming cove, where you can't help but have a nice swim and a little snorkelling. The Blue Grotto will then welcome you with its incredible play of light and colour, a unique experience that will leave you speechless.
Finally, we will reach the characteristic village of Scopello and its stacks, which will welcome us with their grandeur and beauty. An unforgettable last stop for our Zingaro Reserve boat trip which will give us a breathtaking view.
Don't miss the opportunity to book this one of a kind trip. Let yourself be cradled by the waves of the sea, embraced by the sun and surprised by the beauty of pristine places. Come and experience an adventure that will stay in your heart forever!
What is included in the San Vito Lo Capo boat excursions:
Skipper
Taxes and management fees
Fuel
Aperatif
What is excluded in the Zingaro Reserve boat excursions:
Departure details
Hour: Morning 09:30 or Afternoon 14:00
Departure: Check in point at Agenzia Mooway Via Mattarella 33, departure from "Costa Gaia" wharf Via Faro, San Vito Lo Capo
Arrival details
Hour: Morning 13:30 or Afternoon 18:00
The place of arrival coincides with the place of departure
Do you need help? Contact us for information and assistance
I TRE GOLFI is pleased to provide tourist information and assist ON-SITE users in planning their vacation in San Vito lo Capo and western Sicily.