Egadi Islands Tour? Mini-Cruise in a Dinghy!
Discover the magnificent coasts of Favigna and Levanzo with our Mini-Cruise on a rubber dinghy, an Islands Tour Egadi for a full day.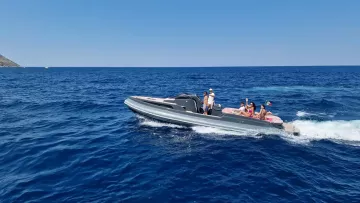 With our Egadi Islands excursions you will be able to experience a truly unforgettable daily cruise in the islands of Favignana and Levanzo, with their heavenly natural views. We take care of every detail, making your day on the dinghy exclusive and comfortable. An unrivaled experience among the wonderful waters crystalline and colors unique that frame your holiday in this wonderful place.
Our Egadi excursions will be aboard a fantastic and comfortable Noah 33, perfect to stay in close contact with the nature that surrounds you and on the edge of the crystalline and pristine waters, which frame the panorama that we will encounter while sailing along the coasts of the Egadi Islands.
Our movements between the locations of the Egadi Islands are very comfortable and on request also quite fast. An exclusive, simple and refined way to move in total freedom and without any constraints.
Boat excursion itinerary
1

Departure from San Vito lo Capo at 9:30

2

Stop in Cala Rossa

3

Stop at the Bue Marino

4

Stop in Cala Azzurra

5

Stop at the lovers' cave

6

Stop in Cala Fredda

7

Stop in Cala Minnola

8

Stop in Cala Calcara

9

Return to San Vito lo Capo scheduled for 18.30
Cala Rossa is a splendid cove among the tuff quarries in Favignana, also considered among the most beautiful beaches in Italy; the Bue Marino is a descent to the sea between caves and tuff quarries of Favignana, where monk seals once lived; Cala Azzurra is a natural tropical swimming pool with very clear bottoms and crystalline waters in Favignana; the Lovers' Cave is the place where two rocks side by side and almost identical come together as in a kiss in Favignana; Cala Fredda is a very popular cove in Levanzo with a gravel beach and very clear sand and very blue waters; Cala Minnola is a cove in Levanzo bathed by crystal clear waters and with a pine forest ready to protect you from the sun; Cala Calcara is the most uncontaminated, wild and rich in marine flora and fauna in Levanzo.
In all the stops during the Egadi Tour, you can take advantage of the totally free equipment for snorkeling in the crystal clear waters, made available by our Skipper, perfect for discovering the marine flora and fauna that make the seabed rich in life. But in addition to admiring this natural spectacle, a tasty one will be offered lunch on board with our products typical local.
Between one stop and another, our guests will have the opportunity to visit the village of Favignana where it will dock for a break.
The 1 day Egadi Islands Tour includes the rental of the dinghy, the Skipper, the fuel for the boat, the awning, the use of fresh water, lunch with drinks such as water, beer, wine and prosecco, the stereo bluetooth, fins and masks, mooring and port charges, third party insurance and final cleaning. Anything not previously specified is to be considered extra.
Leave with us for the Egadi Tour to discover all the most suggestive coves. We are waiting for you!
Do you need help? Contact us for information and assistance
I TRE GOLFI is pleased to provide tourist information and assist ON-SITE users in planning their vacation in San Vito lo Capo and western Sicily.