Private Tour Riserva dello Zingaro by boat, half day
Welcome to a unique adventure that will leave you breathless: the exclusive half-day excursion on a rubber dinghy along the splendid coast of San Vito Lo Capo! Whether you are as a couple, with friends or family, this excursion will be the perfect time to create precious memories and share unforgettable emotions. There is no better way to discover the pristine beauty of the coast of San Vito Lo Capo than on board an exclusive dinghy.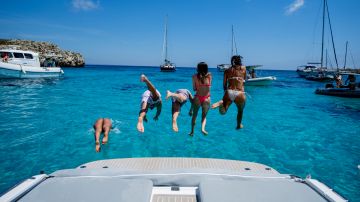 Zingaro Nature Reserve excursion: discover the places we will visit
Immerse yourself in a breathtaking experience with our exclusive Zingaro Reserve boat excursions. Your eyes will be captured by the ancient Torre Scieri and Torre 'Mpiso, majestic watchtowers that proudly stand on the coast, recalling distant times of epic maritime stories. A little further on we will admire the Tonnara del Secco, here we will tell you the stories of tradition, of fishermen and of the slaughter.
Before arriving at the Riserva dello Zingaro, we will show you the Lake of Venus, which will appear to you as a hidden paradise, where nature is reflected in all its magnificence.
Once in the Zingaro Reserve, a protected area that will reveal its wild and unspoilt beauty to you, we will stop in Cala dell'Uzzo which welcomes you with its white sandy beach and inviting turquoise water, we advise you not to miss the opportunity to take a refreshing dip and a little snorkelling to admire the beauty of the seabed. Sailing ahead, we will visit the Lovers' Cave, a secret cave that will enchant your heart with its romantic legend.
But our Zingaro Reserve boat excursion will not end here. We will continue towards Cala del Leone, where the majestic rocks will seem to stretch out towards us, creating a landscape of rare beauty. And finally, the Blue Grotto will welcome us with its play of light, offering an evocative and unforgettable show.
We could not conclude this Zingaro Nature Reserve boat trip without visiting Scopello and its stacks, natural icons that will surprise you with their grandeur and majesty. Here you can swim under these natural icons with the characteristic village and tuna fishery as a backdrop.
This exclusive half-day Zingaro Reserve boat tour is designed for all lovers of nature and breathtaking landscapes. Our team of expert skippers will accompany you safely, with passion and professionalism, to ensure that your trip is unforgettable.
Book your place now for the exclusive half-day Zingaro Reserve excursions on a rubber dinghy and treat yourself to an adventure that will accompany you for a lifetime.
What is included in the San Vito Lo Capo boat excursions:
Skipper
Taxes and management fees
Fuel
Aperatif
What is excluded in the Zingaro Reserve boat excursions:
Departure details
Hour: Morning 09:30 or Afternoon 14:00
Departure: Check in point at Agenzia Mooway Via Mattarella 33, departure from "Costa Gaia" wharf Via Faro, San Vito Lo Capo
Arrival details
Hour: Morning 13:30 or Afternoon 18:00
The place of arrival coincides with the place of departure
Do you need help? Contact us for information and assistance
I TRE GOLFI is pleased to provide tourist information and assist ON-SITE users in planning their vacation in San Vito lo Capo and western Sicily.