Boat excursion San Vito lo Capo and its coast
The coasts of the province of Trapani are all wonderful and you will not have to lose even one to be able to fully appreciate the Sicilian territorial beauties. With the San Vito lo Capo boat excursion you will be able to see the most beautiful coves, beaches and glimpses in one day, with maximum comfort and relaxation.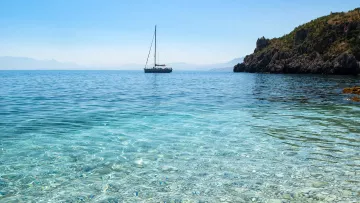 The boats used for our San Vito lo Capo boat trips are about 9/10 meters long and can accommodate a maximum of 12 people on board. This is a very exclusive excursion, often chosen by groups of friends and large families to have the boat entirely for them and thanks to the small size of the boats or rafts, it is possible to enter the heart of the most beautiful coves and relax, without the chaos of larger boats.
San Vito lo Capo excursions, the itinerary
1

Departure from San Vito lo Capo at 10:00 a.m.

2

Arrival at the Riserva dello Zingaro around 10.45 a.m. a stretch of coast with unspoiled nature, protected marine species and wonderful paths to explore

3

First swim stop at Cala dell'Uzzo with emerald green and crystalline blue waters and at Grotta degli Innamorati that you can visit again by discovering a hidden beach

4

Second swim stop at Cala del Leone and Grotta Blu some coves with clear and clean waters in which to snorkel to discover the depths full of life

5

Third stop bath in Scopello and the Faraglioni an ancient fishing village with blue waters where you can swim under the mighty stacks

6

One hour break to visit the town of Castellammare del Golfo a picturesque Arab-Norman village that entirely overlooks the sea;

7

Departure for Cala Bianca at about 3.30 p.m. where during the navigation we will see the Grotta dei Colombi, the Grotta della Vucciria and the Grotta della Madonnina

8

Fourth swim stop in Cala Bianca where you will find a white rocky wall to welcome you and where you can snorkel discovering the very clear seabed

9

Fifth stop for a swim in Cala Rossa the most popular stop for diving lovers for the very rich life at the bottom of the sea

10

Departure for Trapani at 5.20 p.m. and arrival at approximately 6.00 p.m.
On board we will give you everything you need to snorkel in the beautiful waters of the islands. We are waiting for you to experience this Egadi Islands sailing boat together.
INCLUDED IN THE PRICE OF THE EGADI TOUR:
All taxes, fees and handling fees
Fuel
Drinks
Bottled water
Skipper
Local guide
Use of snorkeling equipment
EGADI ISLANDS EXCLUDED FROM THE PRICE OF THE TOUR:
Tailor-made transfers
Secure private parking (Inside our marina you can take advantage of the private parking and shower and toilet facilities)
Do you need help? Contact us for information and assistance
I TRE GOLFI is pleased to provide tourist information and assist ON-SITE users in planning their vacation in San Vito lo Capo and western Sicily.