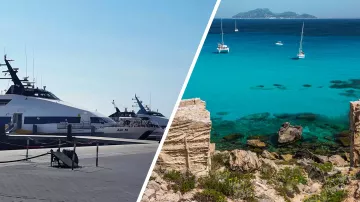 Egadi Ferries, visit the most beautiful islands!
The Egadi Islands are a Sicilian archipelago, formed by Favignana, Levanzo, Marettimo, the islet of Formica and the rock of Maraone, located between the Tyrrhenian Sea and the Sicilian Channel.
Favignana is the most popular, as it is the largest of the three islands, has a real village inside and is very close to the coast of Trapani.

On average, the crossing takes 30 minutes, and along the way the view is truly breathtaking. You can see well the coast of Trapani, with the sea of intense and deep color, immediately reached by the island of Formica, a very small strip of land right in the middle of the blue with the rock of Maraone, and finally sighting the silhouette of Favignana that welcomes us with its crystal clear waters and the hospitality of the country and the people who live there.
Visiting it all is very simple: arrived at the port of Favignana, with the Egadi Trapani ferries, you can find many rentals and the best and most popular choice is that of the Scooter. With lower prices it allows you to move quickly to see as many suggestive points as possible on the island and in the meantime fully enjoy the nature that surrounds this land, managing to have a much closer contact than the car.

The unmissable destinations are Bue Marino, Cala Rossa, Cala Azzurra, the former Florio of the Tonnare factory and the Castle of Santa Caterina.
In the evening the town comes alive with people. Thanks to the presence of many bars and restaurants you can spend the evening tasting the goodness of the island, tasting the typical dishes of the island tradition, cannoli and granitas.
Favignana is a magical island and it is impossible not to visit it if you are on the west coast of Sicily.
Egadi Ferries, the best solution to reach the Islands, book now to secure a place!
Do you need help? Contact us for information and assistance
I TRE GOLFI is pleased to provide tourist information and assist ON-SITE users in planning their vacation in San Vito lo Capo and western Sicily.