Submit your properties
Whether you have an hotel, a holiday home, some apartments or rental vehicles such as cars, rafts, transfers or bicycles, work with us! I Tre Golfi will be happy to welcome you!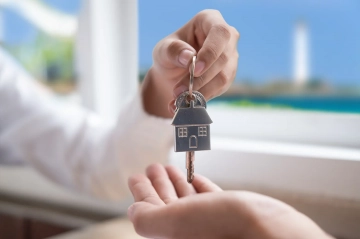 Short-term rentals are very profitable but take a long time to manage. With us you will not have to think about anything anymore, we take care of every aspect of the rental of your property: we manage reservations, welcome guests at check - in and we also take care of maintenance as well as cleaning and linen change at each check out, thanks to our precise and efficient team that always guarantees you an excellent job with complete transparency.
We take care of your property and build a new secure entrance for you
We take care of home staging and marketing strategies, making your properties inviting.
We offer a free appraisal and advise you on how to rent your property to optimize your earnings.
We manage the rates of your properties making sure to fully exploit its potential.
We provide 360 ° assistance: from maintenance to reviews, from contract to reception.
Why choose I Tre Golfi
With us you will have the opportunity to make your property profitable with the certainty that it will fully express its earning potential, both in terms of profitability and efficiency. How?
Simple, you will have a showcase that will allow you to get a lot of visibility, without canceling any reservation and always guaranteeing the best to your customers. You rely on a team of professionals whose main interest is your success and your safety and we take care of booking, hospitality, maintenance and cleaning.
Earn more
With us the visibility of your property increases a lot. Your income will be boosted as you no longer have to cancel any reservations. We are present on the territory to guarantee you maximum efficiency.
You rely on professionals
Your safety is our top priority. Rely on a team of professionals who will take care of booking, reception, maintenance and cleaning. Payments are always on time with us. We protect your property with UnipolSai insurance.
Report in real time
Transparency and precision are our trademarks. You will have the necessary reporting to know everything about your apartment, when you want and in real time.
With your real estate you earn and you don't get stressed, isn't the idea tempting?
If you don't have the time to manage your properties because maybe you don't live there or you are too busy for work, would you like to receive the rent of your apartment without having any thoughts ? Your property can make you earn much more than you think and with I Tre Golfi accommodation you can optimize those earnings without any stress.
Apartment management
Assistance in the "staging" of the property to highlight its strengths

Continuous maintenance of the property

Constant and complete report of all stays and related earnings

Punctual payments in the name of transparency
Increased visibility
Presence of the property on the main online booking portals, such as Booking, Airbnb Expedia and Homeaway

Profile curation with professional photos and captivating descriptions

Continuous monitoring and adjustment of rates based on the period

Answers to all reviews posted by users

List icons can
Continuous control of reservations
Instant answers to questions from online users

Lightning-fast booking confirmations

Calendars synchronized between the various portals to avoid overlapping

Verification of the payment of the guests before the rent
Guests assistance
Guests check-in with reception and delivery of the keys

be used to

Availability 24 hours a day every day for every need of guests

Check-out at the end of the rental with control of the state of the property

Maintenance and resolution of any problem in a short time
Linen change and cleaning
Professional cleaning of the apartment after each stay

Thorough periodic cleaning

Linen change after each rental

Maximum comfort guarantee for guests
Paperwork management
Fulfillment of communications to the State Police on guest data

Payment of the tourist tax
Total protection of the apartment
Property damage insurance

Theft insurance

Liability insurance
No initial costs and zero fixed costs for the management of your property!
Only if you rent your apartment, we receive a small percentage. If you don't rent it, you won't pay anything. The success of your project is our primary concern.
What are the characteristics of your apartment?
We currently offer our customers holiday homes, B & Bs, residences, villas, low cost apartments, rental transfers, cars, scooters, bikes, boats and rafts as well as excursions by boat or in the surrounding areas of San Vito lo Capo.
We will also be very happy to talk about you on our blog!
These are our main services, but we will be happy to welcome new proposals and ideas as well.
If you want to work with us contact us, we look forward to welcoming you to our big family!
Do you need help? Contact us for information and assistance
I TRE GOLFI is pleased to provide tourist information and assist ON-SITE users in planning their vacation in San Vito lo Capo and western Sicily.