Excursion to Marsala and Mothia from San Vito lo Capo or Trapani
Marsala is known as the city of wine, but in reality, it encompasses much more than that.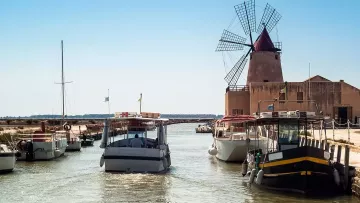 Despite being a city of simple uses and customs, it contains a set of cultures that are also very different from each other, inherent in the Marsala tradition.
Its historic center offers churches, squares, monuments, museums and archaeological excavations that allow us to see the same city in the distant years.
Starting from the beautiful Porta Nuova, we immerse ourselves in the "Cassaro", with Piazza della Repubblica which houses the Norman Cathedral, built in 1176. Continuing along via Garibaldi it is possible to reach the current Piazza Mercato del Pesce which houses the fish market and which at sunset turns into one of the most popular venues for the nightlife. Finally, the remains of ancient ships and many other historical finds are kept in the Baglio Anselmi Archaeological Museum.
The island of Mothia (or Mozia) is instead an ancient Phoenician / Punic colony located on the island of Pantaleo in the Stagnone di Marsala Nature Reserve and belongs to the Whitaker Foundation, archaeologist and heir of an English family who had moved to Sicily and producers of Marsala.
Inside you will find many attractions able to imagine the merchant life in other times.
Program
The excursion program is defined as follows:
1

Departure from San Vito lo Capo in Via Piersanti Mattarella 33 at 09.00

2

Departure from Trapani in Via Ammiraglio Staiti 69 at 10.15

3

Arrival in Marsala Arrival in the center of Marsala at 11.00 and subsequent visit with guide to the historic center of Marsala, visit of the Baglio Anselmi and free lunch. For this occasion we recommend the Marsala wine tasting. Alternatively you can pay a visit or tasting at the Pellegrino Cellars

4

Departure for Mothia 2.00 pm departure and boarding for Mothia, visit of the island, "J. Whitaker ", Marble statue called" Young of Mozia ", Walls, North Gate, submerged road, Cappiddazzu Sanctuary, Tophet, South Gate. Alternatively, visit to the salt museum and free visit to the Ettore Infersa salt pans and refreshments at Mamma Caura

5

Return to San Vito Lo Capo scheduled for 5.30 pm
The participation fee includes transport by bus A / R, the qualified driver, guide, entrance ticket to the Baglio Anselmi regional museum, fuel and VAT. While it does not include entrances, extras, tips, meals and drinks.
To know before the excursion
Cantine Pellegrino Entrance
Ticket € 15.00
Mothia island landing stage
Ticket € 5.00 A/R
Entrance to Mothia Island
Ticket € 9.00
Your excursion from San Vito lo Capo to Marsala and Mothia awaits you!
Do you need help? Contact us for information and assistance
I TRE GOLFI is pleased to provide tourist information and assist ON-SITE users in planning their vacation in San Vito lo Capo and western Sicily.