Visit the Saline of Trapani and Paceco with excursions from Trapani
Trapani is one of the most popular summer destinations in western Sicily, with tourism flows every month of the year. If you are here on vacation, surely you will not be able to miss the most important attractions, including the magnificent Saline di Trapani and Paceco.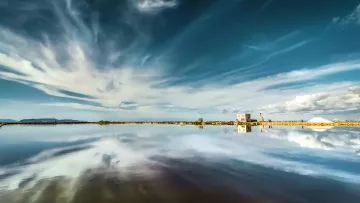 It is an oriented nature reserve protected since 1995 by WWF Italy where you can see the salt workers dedicate themselves to the extraction of salt and its processing. It is a very ancient art and craft that has never lost its traditional side over the years.
You will be able to admire the windmills and enter the magnificent local tradition.
We have two different tours available for the Saline di Trapani and Paceco, one of which takes place in the morning and the other at sunset. The most popular has always been the second, because thanks to the colors of the sunset, a magical atmosphere is created, accompanied by the delicate background of the birds that chirp and the waves of the sea that resound.
Our tours last approximately two to three hours and are suitable for everyone, from the oldest to the youngest. We advise you to use trekking shoes and comfortable clothing and for the evening tour it is advisable to use a jacket.
Book your tour to the Saline of Trapani and Paceco now. We are waiting for you!
Do you need help? Contact us for information and assistance
I TRE GOLFI is pleased to provide tourist information and assist ON-SITE users in planning their vacation in San Vito lo Capo and western Sicily.