Excursion to the salt pans of Trapani from San Vito Lo Capo or from Trapani
The Saline di Trapani will surprise you, discovering a food at the base of our diets and much more!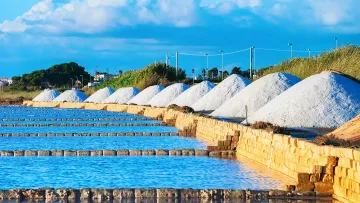 Salt is a precious food and in ancient times it was even used as a bargaining chip.

Our salt pans extend for about a thousand hectares on the Trapani coast, enjoying an excellent position that has allowed the ancient activity of salt extraction and processing since the Phoenician era.
Since 1995 it has become a natural reserve protected by the WWF also for the presence of pink flamingos. On the seabed of the salt flats an alga grows present in a few other points which allows the flamingo to become that famous pink color and thanks to our climate it is also perfect for their fertilization and growth. An Italian pearl.
During the excursion you will also be able to visit Trapani, admiring the magnificent historic center and its monuments such as the Palazzo Senatorio, Trapani Cathedral of San Lorenzo, Church of the Souls of Purgatory. One of the most majestic places is Piazza Vittorio Emanuele with a large statue of the King in the center. But one of the greatest peculiarities of Trapani is the presence still today of the protective walls of the city.
Trapani and its salt pans will leave you speechless!
Program
The excursion program is defined as follows:
1

Departure from San Vito lo Capo in Via Piersanti Mattarella 33 at 09.30

2

Departure from Trapani at 10.30/10.45 with a short stop to admire the characteristic fish market in via C. Colombo

3

Visit of the historic center of Trapani Visit of the historic center of Trapani with guide: Church of Purgatory - Cathedral of San Lorenzo - Palazzo Senatorio - Old Market Square - Walls of Tramontana - Torre di Lignì with its museum

4

Free stop For lunch from 13:00 to 13:50 we recommend the excellent street food

5

Saline di Trapani Departure from Piazza Garibaldi at 14:00 and arrival at the Saline at 14.15, stop, visit of the tanks, Mulino Maria Stella, Saline di Nubia, Saline Calcara and Salt Museum

6

Return to San Vito Lo Capo scheduled for 5.00 pm
The fee includes transport by bus A / R, qualified driver, guide, fuel and VAT. It does not include meals and drinks, entrance fees, extras and tips.
To know before the excursion
Entrance to the Torre di Lignì Museum Single
Ticket unico € 2.00
Entrance to the Salt Museum + Salinaro route
Single Ticket € 4.00
The Saline di Trapani are waiting for you!
Do you need help? Contact us for information and assistance
I TRE GOLFI is pleased to provide tourist information and assist ON-SITE users in planning their vacation in San Vito lo Capo and western Sicily.