Excursion from Trapani or from San Vito Lo Capo Scopello and Segesta
The excursion from Trapani or San Vito lo Capo Scopello and Segesta is among the most popular and will be able to take you back in time experiencing unique emotions.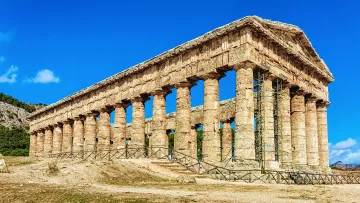 Visiting Segesta you will discover a city covered by an aura of mystery and theories about its origins, but once you see it, you will immediately fall in love with it. It was built on Monte Barbaro and has always been one of the most targeted and disputed lands in Western Sicily.
There are several legends told about his birth. The first legend was hypothesized by Virgil and tells of its discovery by Aeneas, forced to escape and stop there after the fire that was set on the ships before his departure. The second legend instead tells of Aceste, first King and son of the Trojan noble Egesta and of the river god Crimiso. according to which he himself founded the city.
Among the most important monuments we find the archaeological discoveries, starting with the Theater of Segesta and the Doric temple.
Scopello instead is a fraction of Castellammare del Golfo and although it is not possible to find the remains of ancient temples, the remains found during the excavations refer to populations who inhabited these lands since the Mesolithic, still managing to bring us back in time and making the village of Scopello one of the most interesting necropolis in Italy.
Its name translates from the Greek " rocks ", referring to its two magnificent stacks that emerge powerfully from the water.
Program
The excursion program is defined as follows:
1

Departure from Sa Vito lo Capo in Via Piersanti Mattarella 33 at 09.30

2

Departure from Trapani in via Ammiraglio Staiti 69 at 10.30

3

Segesta Arrival in Segesta at 11.15 am, visit of the Archaeological Park and the Theater with a guide

4

Scopello Departure for Scopello at 13.00. Free lunch in the famous village where we recommend you to taste the Pane Cunzato. Visit of the village and the stacks with guide.

5

Return to San Vito Lo Capo at 4.30 p.m.

6

Return to Trapani Expected to return to Trapani at 5.30 pm
The fee includes transportation by Segesta bus A / R, qualified driver, tour leader, fuel and VAT. It does not include meals and drinks, entrance fees, extras and tips.
To know before the excursion
Entrance to the Archaeological Park of Segesta + Theater Single ticket € 6.00
The Theater located on the top of Monte Barbaro can be reached on foot for trekking lovers, there is also a private shuttle bus service for a fee of € 1.50 round trip departing every half hour.
Your excursion to Scopello and Segesta awaits you!
Do you need help? Contact us for information and assistance
I TRE GOLFI is pleased to provide tourist information and assist ON-SITE users in planning their vacation in San Vito lo Capo and western Sicily.