Evening excursion to Erice from San Vito lo Capo
Erice is an ancient medieval village where time seems to have stopped.
With the excursion to Erice from San Vito lo Capo you will have the opportunity to visit this magnificent village without missing any of the most beautiful attractions that the village offers.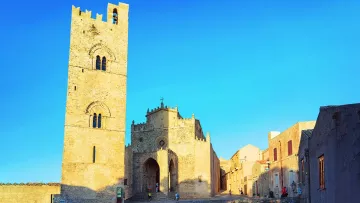 Founded by the Trojans, it takes its name from a mythological creature killed by Heracles, Erix, where the ancient people of the Elymians were born.
It was once known as " the city of a hundred churches and convent " and many of these churches are still accessible today, some as attractions and others for worship.
Among the symbolic monuments of the city there is certainly the Castle of Venus, a Norman stronghold built on the ruins of an ancient Elymian temple. It is also known as the Temple of Venus Ericina and its legend tells that the Erix built the temple for his mother Aphrodite and founded the city.
Each historic village brings with it historical traditions, among which we can include the Erice pastry shop with its famous Genoese and craftsmanship local with the weaving of Ericini carpets with magnificent.
Erice will be able to give you unique emotions, an experience made unforgettable also by the orange, red and yellow colors that invade the town during the sunset that embraces the city of Trapani.
Program
The excursion program is defined as follows:
1

Departure from San Vito lo Capo in Via Piersanti Mattarella 33 at 5.30 pm

2

Stop in Trapani in Via Ammiraglio Staiti 69 at 6.15 pm for hikers' pick-up

3

Arrival in Erice scheduled for 6.30 pm with a stop, visit of the medieval town, typical Erice pastry shop and weaving of Erice carpets and free time for sunset and dinner

4

Return to Trapani scheduled for 11.00 pm

5

Return to San Vito Lo Capo scheduled for 11.00 pm
The participation fee includes transport by bus A / R, qualified driver, guide, fuel and VAT. Entrance fees, extras, tips, meals and drinks are not included.
Your evening excursion to Erice awaits you!
Do you need help? Contact us for information and assistance
I TRE GOLFI is pleased to provide tourist information and assist ON-SITE users in planning their vacation in San Vito lo Capo and western Sicily.