Egadi Day: Exclusive boat excursion to Favignana and Levanzo
Spend a day at sea full of fun aboard our new and comfortable inflatable boats with our exclusive Favignana and Levanzo excursions!


Warning: mysqli_stmt::bind_param(): Number of variables doesn't match number of parameters in prepared statement in /home/web/itregolfi.com/wwwroot/includes/mooway_reservations_excursion_sea-inc.php on line 329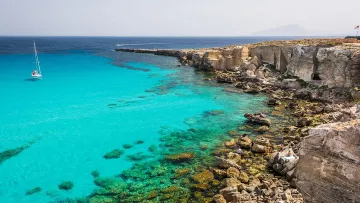 Spend a day at sea full of fun aboard our new and comfortable inflatable boats with our exclusive Favignana and Levanzo excursions!
For our exclusive Favignana Levanzo excursion, we will leave at 10:00 from the port of Pizzolungo-Trapani and our expert skippers will be at your complete disposal. They will show you enchanting places, breathtaking views and pristine coves, accompanying you with the stories and legends that make these places even more interesting.
During the route to Favignana, you will be able to admire the island of Formica and the Maraone rock. With this Favignana and Levanzo boat tour you will have the opportunity to make several stops in some of the most beautiful coves, such as Cala Rossa, Bue Marino and Cala Azzurra, famous for their crystalline waters, perfect for snorkelling with provided, if you wish. We will also be able to visit the Grotta degli Innamorati and then dock at the port to explore the wonderful historic center of the island and have lunch.
After a pleasant break, we will set off to discover the enchanting Levanzo, where we will stop in places such as Cala Fredda, Cala Minnola and Cala Calcara. The tour will end with the return to the port of Pizzolungo-Trapani at approximately 18:00.
The recommended program may vary according to weather conditions.
The Egadi Islands excursion itinerary
1

Departure from Pizzolungo Trapani at 10:00

2

First swim stop in Cala Rossa a small rocky amphitheater where the waters are crystal clear and you can dive into this blue pool and discover the beautiful seabed.

3

Second swimming stop at Bue Marino a natural spectacle set in the ancient tuff quarries, a descent on the clean and crystalline sea

4

Third swim stop in Cala Azzurra with the clearest waters in all of Sicily. You will be able to admire its seabed of white sand with pink reflections, which gives this splendid color to the waters that bathe it

5

Fourth swim stop at the Grotta degli Innamorati named after the two underwater rocks that close in an embrace. You can swim inside the cave, reaching a small hidden beach inside

6

One-hour break to visit the village of Favignana and admire the beautiful architecture typical of the seaside resort inhabited by fishermen

7

Departure for Levanzo

8

Fifth swim stop in Cala Fredda adjacent to the small inhabited village. It offers a pebble beach and very clear sand

9

Sixth swim stop in Cala Minnola with rocks that take us to the water like a slide and is framed by a large and silent pine forest

10

Seventh swim stop in Cala Calcara one of the most beautiful and wildest on the island

11

Rieturn to Trapani at 18:00
Comprehends:
Skipper
Taxes and management fees
Fuel
Drinks
Bottled water
Local guide
Use of snorkel equipment
Does not include:
Secure private parking
Lunch
Departure and arrival details:
Hours: 10:00 - 18:00
Pizzolungo (TP) at the moorings at Hotel Tirreno Via Enea, 37. In front of the boarding area, parking is free and always available!
Extra Services:
You don't know how to reach the embarkation? Book a shuttle bus!
From Trapani: Just contact our agency in Trapani to take advantage of our FREE shuttle service.
The meeting point is at our Waycar agency in Via Ammiraglio Staiti 73, where a comfortable shuttle bus will be waiting for you which will allow you to reach the embarkation point in a few minutes. Bus departure scheduled at 09.30.

From San Vito Lo Capo: we have thought of a transfer service, you just need to book it by contacting our office in San Vito Lo Capo.
The meeting point is at our Waycar agency in via Piersanti Mattarella, 33 in San Vito Lo Capo. Here a shuttle bus will be waiting for you which will allow you to reach the embarkation point in complete comfort. Bus departure scheduled at 08.45.

In both cases it is possible to request the service with departure from the accommodation facility where you are staying.
Do you need help? Contact us for information and assistance
I TRE GOLFI is pleased to provide tourist information and assist ON-SITE users in planning their vacation in San Vito lo Capo and western Sicily.