Exclusive tour of the Zingaro's Reserve, Scopello, Castellammare by boat
Come and discover the wild coves of the Zingaro's Natural Reserve with our exclusive Zingaro's Natural Reserve excursion! Choose who to share this extraordinary experience with on a modern and comfortable dinghy, all for you.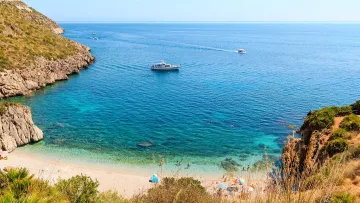 Let yourself be guided by our skippers to places that will leave you speechless! In addition to the splendid coves of the Zingaro's Reserve, with our tour by boat we will visit the towns of Scopello and Castellammare del Golfo. The departure of our boat excursions is scheduled at 10:00 from San Vito Lo Capo.
During the journey to Cala dell'Uzzo, one of the coves of the Reserve, you will be able to admire an enchanting coastal landscape. As soon as you arrive at the first cove, you can dive into crystal clear waters and snorkel so as not to lose the beauty of the seabed. After having also visited the Grotta degli Innamorati, we will head towards Cala del Leone, where we will visit the Blue Grotto. Subsequently, we will reach the stacks of Scopello and, finally, the port of Castellammare del Golfo. Here, we will make a stop of one hour and thirty minutes, during which you can visit the city. Finally, we will visit the Cala Bianca and the Cala Rossa.
The return is scheduled for 18:00.
Please note that this itinerary may vary depending on weather conditions.
1

Departure from San Vito Lo Capo at 10:00

2

Stop at Cala dell'Uzzo (Zingaro's Natural Reserve)

3

Stop at Cala del Leone

4

Stop at the Faraglioni di Scopello

5

Stop at Cala Rossa

6

Return to San Vito Lo Capo scheduled for 18.00
What is included:
Skipper
Taxes and management fees
Fuel
Drinks
Bottled water
Local guide
Use of snorkel equipment
What is not included:
Secure private parking
Lunch
Departure and arrival details
Hours: 10:00 - 18:00
Departure from the "Costa Gaia" pier in Via Faro, San Vito Lo Capo.
Do you need help? Contact us for information and assistance
I TRE GOLFI is pleased to provide tourist information and assist ON-SITE users in planning their vacation in San Vito lo Capo and western Sicily.