The classic mini-cruise: excursion to Favignana and Levanzo
Favignana and Levanzo are the most popular islands among the Egadi Islands. Take advantage of a magnificent excursion to Favignana and Levanzo with a mini-cruise with I Tre Golfi Accommodation.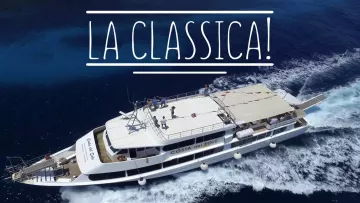 Favignana is the largest and most served island of the three and offers some of the coves that all of Italy envies.
During our excursion you will have a two hour stop on the island to visit the country and the main attractions. We highly recommend you to see the two main squares and the Florio factory, a now disused trap that collects a large slice of Sicilian history.
Following the visit of the town, we will continue our excursion with stops for swimming in the most beautiful coves and a stop for lunch on board.
All the coves in Favignana are magnificent, but some still manage to stand out, including Cala Rossa, Cala Azzurra and Bue Marino, each with the peculiarities that make them unique.
Then we continue towards Levanzo, with a break of one hour to visit the small town and with bathing on the coast. We will then see the Faraglione and the most suggestive coves, finally returning to Trapani.
A day to discover the most suggestive coves of Favignana and Levanzo.
Program
1

Departure Departure from Trapani at 09:30

2

Arrival on the island of Favignana

3

Stop in Favignana Two hours stop to visit the town

4

Favignana coves Visit of the most beautiful coves with a stop for bathing

5

Lunch on board

6

Arrival on the island of Levanzo One hour stop to visit the town and swim from the coast

7

Visit of the Faraglione and the most suggestive coves

8

Return to Trapani scheduled for 17.30 - 18.00
Your mini-cruise in Favignana and Levanzo awaits you!
Do you need help? Contact us for information and assistance
I TRE GOLFI is pleased to provide tourist information and assist ON-SITE users in planning their vacation in San Vito lo Capo and western Sicily.