Trekking excursions Zingaro Reserve from San Vito lo Capo
Are you excited for your Zingaro Reserve excursions? Corners of heaven land are waiting for you to be discovered.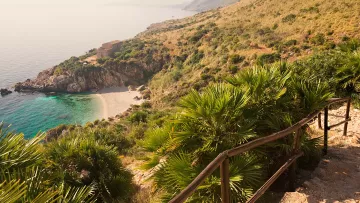 Among the few stretches of coast that remained uncontaminated, after the overbuilding of a large part of the Sicilian coasts in the 1960s, the Riserva dello Zingaro preserves jealously every corner of nature and Mediterranean stretch, creating a relaxing, wild and total immersion in the green.
The Riserva dello Zingaro excursions start from San Vito lo Capo, on the north side, and continue with a walk in the direction of the Peasant Civilization Museum, with ancient testimonies of the wheat cycle, plows, scythes and saddlebags belonging to times now past.
After this visit, we continue on a climb reaching the suggestive Grotta dell'Uzzo, one of the most important prehistoric sites in the whole of Sicily, where the remains of rhinos, lions and even mammoths have also been found. This cave was used by a community of hunters to shelter at night from ferocious animals and the emotion one feels in imagining the life that other men lived thousands of years ago is indescribable.
After this leap back in time, the Riserva dello Zingaro tour continues up to the half-coast path in the locality of Sughero, where it will be possible to admire the beauty of the landscape that competes between the sea and the mountains. Continue towards Borgo Cusenza, a beam with a few houses where time stopped a hundred years ago. Then the descent towards the Caves of Mastro Peppe Siino will begin, which take their name from the owner, a real window on the sea.
Continuing the descent towards the coast, you can stop in a cozy picnic area where you can take a break after the long walk and, for those who want, it will be possible to take a nice relaxing bath in the waters clear and crystalline of Cala Tonnarella dell'Uzzo, one of the many magnificent coves made of river pebbles and natural shaded areas.
It will be really exciting to trace again roads and paths once lived by now extinct animals and men of prehistory, to imagine and live for a moment in a stretch of history far from us.
Other information
Lenght: 8,64 km
Duration: 4 h
Difficulty: E (Hike)
Maximum altitude: 473 m
Minimum altitude: 14 m
Ascent height difference: 492 m
Descent height difference: -492 m
Maximum slope uphill: 38,4%
Maximum descent slope: -33,4%
Note: Ticket required for entry to the Zingaro Reserve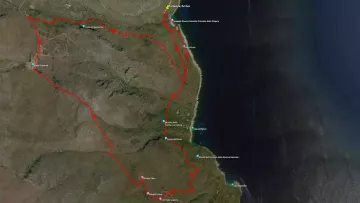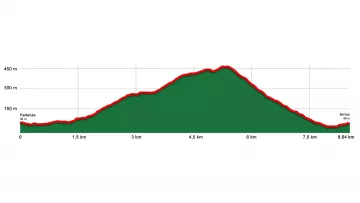 General notes for excursions
Before departure
A short meeting will be held at the meeting place with the participants to explain the planned itinerary in its various aspects and remember the anti-contagion rules from Covid-19 in force.
We remind you that all participants must be equipped with a mask (to be worn in case of regulatory need) and disinfectant gel. In case of more than 20 people, the groups will be divided into 2 groups and each group will be assigned 2 companions who will have the task of guiding the excursion and supervising compliance with the membership rules.
Equipment
To participate in the excursion it is mandatory to have trekking boots, with non-slip treaded sole (Vibram type), medium / high ankle, waterproof (Goretex type recommended); then it is necessary to have a mountain backpack, (recommended with padded shoulder straps, backrest with structure possibly detached from the back), with unloading belt at the waist. For day trips the right capacity is 20-30 liters (must be large enough to hold food, water, anorak, fleece sweater, hat, gloves, headlight, whistle, first aid kit, personal medications and more), in general it should not go under the butt or over the head. For multi-day treks, however, a larger backpack (40-50 liters) is required. The use of trekking poles is recommended and recommended as they increase safety.
Clothing
In the mountains you have to dress according to the season, but always be ready for changes in the weather. So, in addition to the clothing you wear (comfortable and resistant light trousers or bermuda shorts - no jeans ! -, socks, light and breathable short-sleeved t-shirt, long-sleeved shirt) you must always put material for the sun in your backpack (sunglasses, sun hat with visor, sunscreen, sunscreen lips), cold (fleece sweater, gloves, tubular fleece band), wind (light and waterproof windbreaker), rain (cape, or waterproof jacket and trouser covers, leggings). Of course, if you go to the mountains in winter you must bring warm and warm clothing and do not forget gloves, winter hat, headband or scarf for the throat.
Diet
Finally, do not forget to always bring a bottle with water (at least 1-1.5 liter, no carbonated drinks! In winter, hot tea is recommended), an energy snack (dried fruit, cereal bars, chocolate), food for lunch at bag (sandwiches with cold cuts, cheese, parmesan, fruit, etc.) picnic kit (non-polluting).
NOTE: avoid drinking milk in the morning, as it can cause stomach problems in the car/bus.
Below you will find the PDF of the Disclaimer of Liability Declaration, to download and fill in.
This and much more awaits you during your excursions in the Riserva dello Zingaro San Vito lo Capo, you just have to go on an adventure with I Tre Golfi Accommodation.
Do you need help? Contact us for information and assistance
I TRE GOLFI is pleased to provide tourist information and assist ON-SITE users in planning their vacation in San Vito lo Capo and western Sicily.