Trekking Monte Passo del Lupo: your excursions San Vito lo Capo
Hiking shoes, backpack in shoulder and we start our excursions San Vito lo Capo, direction: Monte Passo del Lupo.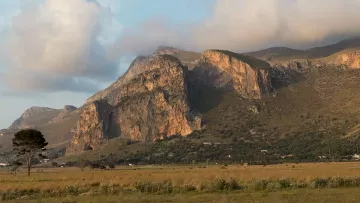 Among the excursions Riserva dello Zingaro San Vito lo Capo, immersed in the vegetation of the reserve among dwarf palms, eagles and orchids, opens a path that leads us to one of the most important reliefs of the mountainous peninsula of San Vito lo Capo, just above Macari, the mighty Monte Passo del Lupo in its 868 m.
The whole itinerary of the San Vito lo Capo Tour to discover its mountains starts on the small road forestry for Portella Sauci which continues up to Portella San Giovanni where the real tour begins of the mount Passo del Lupo. This path winds between two gulfs: the gulf from Mountain Hood and the gulf from Castellammare, giving a beautiful and very rich variety from landscapes with changing natural paintings throughout the hike.
During these excursions from San Vito lo Capo you can admire the plain of the town, the gulf of Castellammare, the beautiful Monte Hood, the mighty Mount Erice, the paradisiacal Islands Egadi and many other glimpses of Sicily that you can discover during your journey.
Such an exciting walk also requires a bit of healthy rest, ideal for regenerating, which is why when you arrive at the highest point you will make a stop for the lunch where you can rest your legs for a while and get ready to leave. We will continue again in the direction of Portella San Giovanni retracing the little road.
During the whole excursion of the mountain to San Vito lo Capo tour, you can admire the beautiful morphology of the coast, articulated by the presence of numerous peaks, inlets, cliffs, plateaus, promontories and beaches limited by terraced escarpments and rocky escarpments. The complex of reliefs limestone are used as pasture and covered by Mediterranean grasslands and garrigue and hosts many formations of dwarf palm scrub. Unfortunately, the low productivity of the land has left several very large areas uncultivated and increasingly exposed to pasture, progressively losing its Mediterranean identity.
However, this does not take away any beauty from this path, on the contrary it differentiates it and makes it unique in turn.
Other information
Lenght: 11,06 km
Duration: 5 h
Difficulty: E (Escursionistico)
Maximum altitude: 718 m
Minimum altitude: 267 m
Ascent height difference: 624 m
Descent height differrence: -624 m
Maximum slope uphill: 28,5%
Maximum descent slope: -27,1%
Notes: Ticket required for entry on Zingaro Reserve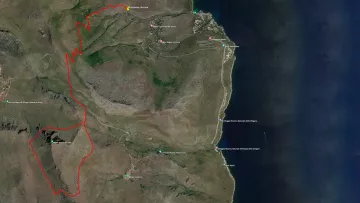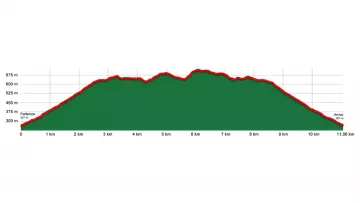 General notes for excursions
Before departure
A short meeting will be held at the meeting place with the participants to explain the planned itinerary in its various aspects and remember the anti-contagion rules from Covid-19 in force.
We remind you that all participants must be equipped with a mask (to be worn in case of regulatory need) and gel disinfectant. In case of more than 20 people, the groups will be divided into 2 groups and each group will be assigned 2 companions who will have the task of guiding the excursion and supervising compliance with the membership rules.
Equipment
Equipment
To participate in the excursion it is mandatory to have boots from trekking, with non-slip tank sole (Vibram type), medium / high ankle, waterproof (Goretex type recommended); then you need to have a backpack from mountain, (recommended with padded shoulder straps, backrest with structure possibly detached from the back), with belt unloading at the waist. For day trips the right capacity is 20 - 30 liters (must be large enough to hold food, water, jacket windbreaker, fleece sweater, hat, gloves, headlight, whistle, first aid kit, personal medications and more), in general it shouldn't go under your butt or over your head. For multi-day treks, however, a larger backpack (40-50 liters) is required. The use of sticks is recommended and recommended from treks that increase safety.
Clothing
In the mountains you have to dress according to the season, but always be ready for changes in the weather. So, in addition to the clothing you wear (comfortable and resistant light trousers or bermuda shorts - no jeans ! -, socks, light and breathable short-sleeved t-shirt, long-sleeved shirt) you must always put material for the sun in your backpack (sunglasses, sun hat with visor, sunscreen, sunscreen lips), cold (fleece sweater, gloves, tubular fleece band), wind (light and waterproof windbreaker), rain (cape, or waterproof jacket and trouser covers, leggings). Of course, if you go to the mountains in winter you must bring warm and warm clothing and do not forget gloves, winter hat, headband or scarf for the throat.
Diet
Finally, do not forget to always bring a bottle with water (at least 1-1.5 liter, no carbonated drinks! In winter, hot tea is recommended), a snack energy (dried fruit, cereal bars, chocolate), food for lunch bag (sandwiches with cold cuts, cheese, parmesan, fruit, etc.) picnic kit (non-polluting ).
NOTE: avoid drinking milk in the morning, as it can cause stomach problems in the car/bus.
Below you will find the PDF of the Disclaimer of Liability Declaration, to download and fill in.
San Vito lo Capo excursions to discover the surrounding mountains : go on an adventure with I Tre Golfi Accommodation!
Do you need help? Contact us for information and assistance
I TRE GOLFI is pleased to provide tourist information and assist ON-SITE users in planning their vacation in San Vito lo Capo and western Sicily.