Egadi Islands with Maurizio: excursion by boat to Favignana and Levanzo
This is not a simple Favignana boat ride, a common mini-cruise. This is a Favignana and Levanzo boat excursion led by the expert sailor Maurizio Lamorgese, who manages to make this experience unforgettable. An immersion in life on board, between tales, experiences and stories of a real captain.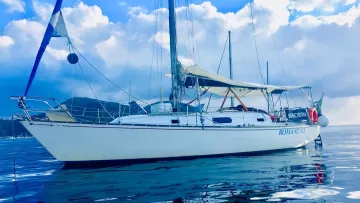 Maurizio has chosen to live in the sea and live it as his home for 20 years, with 40 years of experience in the waves, to study and learn, so much so that sea water now flows in his veins. He has made 5 Atlantic crossings, his knowledge on seafaring is truly unique, he has written books in which he exposes with love and dedication in the true meaning of sailing in all its forms, his skills on winds and sea currents make him a real professional and his Mediterranean cuisine is excellent, expertly treated in taste but also in presentation.
Maurizio is a true sea dog and will take you to discover the coves, caves and the most beautiful views of the Egadi Islands, with a wonderful experience tailored to the guests who will share magical moments of navigation with him.
Every year the Egadi Islands host thousands of tourists from all over the world, making the beaches almost always inaccessible. Precisely for this reason we always recommend boat trips to Favignana and Levanzo, all the more so when to accompany you is a true eclectic sailor full of anecdotes to tell you aboard a splendid sailboat and in which to immerse yourself with the imagination.
You will discover the most evocative coves and glimpses of these splendid islands aboard the MariaCristina C & C37 boat, a classic Canadian designed boat built by the Benello shipyard in Livorno. It is a classic, fast, winning sloop. Think that you will be able to sail in the wonderful Sicilian waters during your Favignana boat trip and, in the meantime, you will have the expert captain who shows you all the peculiarities of the islands, how the boat works, how the winds move. And between a stop for bathing and another, you will savor the tasty dishes he offers, as an excellent chef.
You can choose whether to leave directly from Trapani or arrive from San Vito lo Capo by taking advantage of our shuttle that will accompany you to the Columbus pier, both outward and return, from which we will leave for our Favignana and Levanzo boat tours!
All you have to do is book your seat and do not miss this unique experience.
Do you need help? Contact us for information and assistance
I TRE GOLFI is pleased to provide tourist information and assist ON-SITE users in planning their vacation in San Vito lo Capo and western Sicily.