Horseback riding from San Vito lo Capo
Discovering the wonderful Sicily on horseback is an experience that everyone should do. Create a bond and find the right harmony with your horse, breathe the clean sea air and gallop in the clear waters. With horse rides from San Vito lo Capo you can discover this land from a new perspective.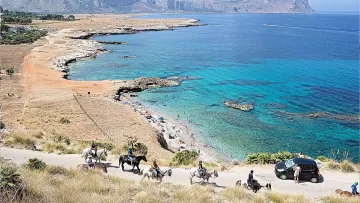 We want this service to be accessible to everyone, which is why the itineraries we have chosen and the horses that will accompany us are capable of bringing children and even inexperienced people. Do not worry if you have never done it before or if you are with younger children, there will always be an experienced staff next to you ready to help you, guaranteeing you walks in total safety.
Dress comfortably and go on an adventure for your horse ride, we will give you all the appropriate protection!
Our horseback rides last about 4 hours, but you can also opt for the 2-hour walk, and can be done both in the morning, starting at 8.30, and in the afternoon, starting at 15.30.
The stages during the horse ride!
A journey to discover the hinterland, between barren fields, unspoiled nature and clear and crystalline waters. For our horseback ride we have chosen stages suitable for everyone and which allow stops to rest.
We will visit the Mangiapane Cave, a beautiful gash in Monte Cofano in Custonaci, a few minutes from San Vito lo Capo. There are nine caves dating back to the Upper Paleolithic, the famous Grotte di Scurati, and this cave is the largest among the sisters. The Mangiapane family in 1819 built a housing complex between these caves, houses now in disuse, but which every year welcome the Living Nativity and always maintain their beauty and historicity making them alive.
Continuing on our horseback rides we will reach the Monte Cofano Nature Reserve, a beautiful reserve between Trapani and San Vito lo Capo, framed by the mighty Monte Cofano, with blue and clean waters and the Mediterranean scrub full of dwarf palms. In this Jurassic-era promontory, peace and tranquility reign, far from any form of noise pollution.
During the stop in the reserve you can take a refreshing dip in its clear waters and admire the wonderful Belvedere of San Vito with the breathtaking view it offers.
It will be an unforgettable experience that is absolutely worth living.
Saddle up and go on an adventure with us, a day on horseback awaits you!
Do you need help? Contact us for information and assistance
I TRE GOLFI is pleased to provide tourist information and assist ON-SITE users in planning their vacation in San Vito lo Capo and western Sicily.