Minicruise of the Zingaro Reserve and Tonnara di Scopello with a typical fishing boat
To live a full immersion experience in culture and life Sicilian, we thought of this unforgettable excursion: a mini-cruise Riserva dello Zingaro and Tonnara di Scopello aboard a typical fishing boat.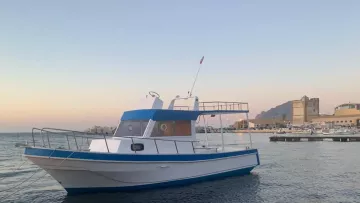 Get on their boat will be very exciting, imagining their life and sharing their spaces, places where fish are caught every day fresh that reaches our tables.
It will be a very intimate excursion, as they can accommodate up to 10 passengers and you can enjoy an excellent lunch on board with typical Sicilian fish-based products.
During your half-day boat excursion, you can see all the wonders that the panorama offers up close during navigation and during stops.
Boat excursion itinerary
1

Departure from San Vito lo Capo in the morning 9:30, in th afternoon at 14:30

2

Stop at the Saracen Towers

3

Stop at the Tonnara of San Vito lo Capo

4

Stop at Firriato

5

Stop at the Lake of Venus

6

Stop at the coves of the Riserva dello Zingaro

7

Stop at the Tonnara di Scopello

8

Return to San Vito lo Capo expected in the morning at 13.30, in the afternoon at 18:30
We will see the Saracen Towers, which over the centuries have protected the city from pirate invasions thanks to their sighting system. We will discover the Tonnara of San Vito lo Capo, now in disuse since 1969 but which still tells and shows traces of history, from the Mattanza to the processing of Tuna. We will get lost in the sight of Firriato, a marvelous cove within the Zingaro nature reserve together with Lake Venus, a tropical natural pool surrounded by cliffs and promontories from the Jurassic era. We will see the suggestive coves of the Zingaro Reserve : Cala Tonnarella dell'Uzzo, Cala dell'Uzzo, Cala Marinella, Cala Berretta, Cala della Disa, Cala del Varo and Cala Capreria. Finally, we will arrive in the Tonnara di Scopello and its stacks, which rise mighty from the water and which, as for the Tonnara di San Vito, preserves stories and legends of centuries gone by.
During our stops you can admire the spectacular landscapes that nature offers us, tasting delicious dishes based on fresh fish.
It will be heavenly to take a dip in the clear and crystalline waters in which we will sail during our boat tour, snorkeling in these waters full of life with unrivaled marine flora and fauna. The equipment will be made available free of charge by the crew of the fishermen's boat.
You just have to book your seat and leave for this unforgettable experience, we are waiting for you!
Do you need help? Contact us for information and assistance
I TRE GOLFI is pleased to provide tourist information and assist ON-SITE users in planning their vacation in San Vito lo Capo and western Sicily.