Scopello and Riserva dello Zingaro: your boat excursion
Scopello and the Riserva dello Zingaro are among the most beautiful unmissable destinations to visit in the province of Trapani.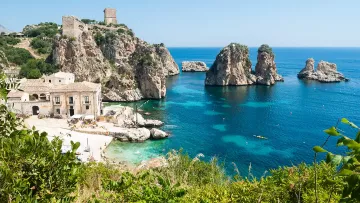 During our excursion we will leave from the port of San Vito lo Capo and we will skirt the wonderful Corallina beach, meeting one of the Saracen Towers that we will be able to observe during our excursion: Torre Sciere.
After this historic tower, we will see on the horizon the ancient Tonnara del Secco, the trap of San Vito lo Capo which remained in operation until 1969 and of which it is still possible to see the remains of the fish processing plants.
Later we will see the beautiful Bay of Venus in the coast called "Firriato", adjacent to the lake naturally formed by a group of rocks, the Lake of Venus.
At this point we will be able to spot another Saracen tower, Torre Mpisu, and from there the wonderful coast of the Zingaro Nature Reserve will begin, a stretch of uncontaminated coast where we can observe the flora and the vast marine fauna.
Its coast is about 7 km and connects San Vito lo Capo to Scopello. There are several coves, in order: Cala Tonnarella dell'Uzzo, Cala dell'Uzzo where we will make a 30-minute swim break, Cala Beretta, Cala della Disa, Cala Marinella, Cala del Varo and Cala Capreria.
After this last cove we can begin to glimpse the mighty Faraglioni of Scopello together with the village and its tonnara. In these magnificent crystalline waters we will make the second stop for bathing, always 30 minutes, during which the captain will offer an aperitif on board.
Another particular beauty of our excursions is that with every beauty we meet, we will tell you in the notions and their history, so as to fall in love more and more with the Sicilian coast.
On boat you will find a shaded area with seating and a sunbathing area where you will find a fresh water shower and toilet.
Take advantage now and book your boat excursion to Scopello and the Zingaro Nature Reserve, we are up to you!
Do you need help? Contact us for information and assistance
I TRE GOLFI is pleased to provide tourist information and assist ON-SITE users in planning their vacation in San Vito lo Capo and western Sicily.