Egadi Day: Egadi Islands Tour of Favignana and Levanzo
Ready to set sail to discover ancient stories and legends, crystal clear waters, suggestive coves, caves and much more? You are in the right place. With your Egadi Islands Day tour, you will be able to observe and visit Levanzo and Favignana, with an exclusive and comfortable boat that will take you to discover corners of paradise.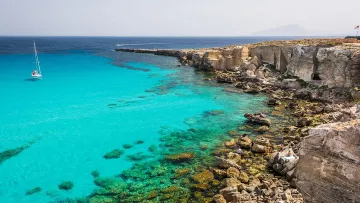 The Egadi Islands are a stop not to be missed during your holiday in San Vito lo Capo and in the province of Trapani. With the Egadi tour, you can visit the islands of Levanzo and Favignana without losing the most beautiful and evocative coves and caves, all always with maximum comfort.
The Egadi Islands excursion itinerary
1

Departure from the port of Trapani at 10:00 a.m.

2

Arrival in Favignana around 10:30 a.m.

3

First swim stop in Cala Rossa a small rocky amphitheater where the waters are crystal clear and you can dive into this blue pool and discover the beautiful backdrops

4

Second swim stop at Bue Marino a natural spectacle set in the ancient tuff quarries, a descent on the clean and crystalline sea

5

Third swim stop in Cala Azzurra with the clearest waters in all of Sicily. You can admire its backdrop of white sand with pink reflections, which gives this shining color to the waters that bathe it

6

Fourth stop for a swim at the Grotta degli Innamorati so called for the two underwater rocks that close in an embrace. You can swim inside the cave, reaching a small beach hidden inside

7

One hour break to visit the town of Favignana and admire the beautiful architecture typical of the seaside town inhabited by fishermen

8

Departure for Levanzo at about 15:30

9

Fifth swim stop in Cala Fredda adjacent to the small inhabited village. It offers a small pebble and very light sand beach

10

Sixth swim stop in Cala Minnola with rocks that like a slide accompany us into the water and is framed by a large and silent pine forest

11

Departure for Trapani at 5.30 p.m. and arrival at approximately 6.00 p.m.
During the navigation we will see the small islet of Formica and the Maraone rock, with the skipper who will tell you the story and choose the best route to reach the destinations with the most favorable and relaxing conditions.
On board we will give you everything you need to snorkel in the beautiful waters of the islands.
The boats for our Egadi Tour accommodate up to 12 people on board, thus guaranteeing our guests a completely exclusive and tailor-made service. It is the ideal choice for those who want to visit these wonderful islands without the chaos found in larger boats or for a group of friends, who can rent the entire boat just for them. The boats measure about 9/10 meters, this makes them perfect for reaching the heart of the coves and being able to experience them in their complete splendor. Also you won't have to worry about the shade, as the awnings present cover up to three quarters of the boat.
We are waiting for you to experience this unforgettable 1 day Egadi Islands tour together.
INCLUDED IN THE PRICE OF THE EGADI TOUR:
All taxes, fees and handling fees
Fuel
Drinks
Bottled water
Skipper
Local guide
Use of snorkeling equipment
EGADI ISLANDS EXCLUDED FROM THE PRICE OF THE TOUR:
Tailor-made transfers
Secure private parking (Inside our marina you can take advantage of the private parking and shower and toilet facilities)
Do you need help? Contact us for information and assistance
I TRE GOLFI is pleased to provide tourist information and assist ON-SITE users in planning their vacation in San Vito lo Capo and western Sicily.