Wonderful tour of the Zingaro's Natural Reserve, Scopello and Castellammare by boat
Come with us to discover the most beautiful coves on the coast of San Vito Lo Capo with our excursion at Zingaro's Natural Reserve, Scopello and the village of Castellammare del Golfo.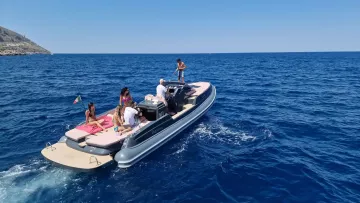 This area is famous for the beauty of its crystal clear sea and its breathtaking scenery. Don't wait any longer, book your tour with us and discover all the wonders of this corner of paradise!
Our Zingaro's Natural Reserve excursion by boat leaves at 10:00 from San Vito Lo Capo. While sailing, you will be able to admire the defense towers that rise in the rugged coastal landscape, such as Torre Scieri and Torre 'Mpiso, the famous Tonnara del Secco and Lago di Venere, a natural pool formed following the fall of rocks from the coast.
Arrived at the Zingaro Reserve, we will visit Cala dell'Uzzo, with its clear waters and white pebble beach, immersed in the Mediterranean scrub. We will stop for a dip and to visit the Grotta degli Innamorati, Cala del Leone, protected by a rock that plunges into the sea and the Blue Grotto, where you can snorkel and relax with many dives.
We will then continue our excursion by boat to the Zingaro Reserve heading towards Scopello, where you can swim among the stacks together with the many fish that inhabit these waters, enjoying the beauty of the small fishing village and the tuna fishery.
Finally, we will arrive at the port of Castellammare del Golfo, where you will have the opportunity to visit the seaside village for an hour and a half. Before returning to the port of San Vito Lo Capo, at around 18:00, we will visit and make a stop at Cala Bianca and Cala Rossa.
Please note that this recommended program may vary based on weather conditions.
Boat excursion itinerary
1

Departure from San Vito lo Capo at 9:30

2

Stop at Cala dell'Uzzo

3

Stop at Cala del Leone

4

Sosta at the Faraglioni of Scopello

5

Stop at Cala Bianca

6

Stop at Cala Rossa

7

Return to San Vito lo Capo scheduled for 6.00 pm
What is included:
Skipper
Taxes and management fees
Fuel
Drinks
Bottled water
Local guide
Use of snorkel equipment
What is not included:
Secure private parking
Lunch
Departure and arrival details
Hours: 10:00 - 18:00
Departure from the "Costa Gaia" pier in Via Faro, San Vito Lo Capo.
Do you need help? Contact us for information and assistance
I TRE GOLFI is pleased to provide tourist information and assist ON-SITE users in planning their vacation in San Vito lo Capo and western Sicily.