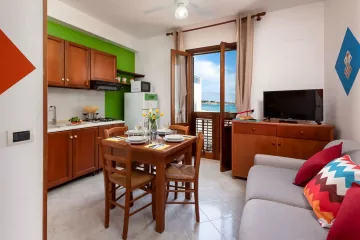 Beach Apartments: San Vito lo Capo last minute
The holidays are upon us and you haven't booked your holiday apartment yet? Did you just find out that your vacation starts right away and the boss just told you about it? Do you need to switch off immediately and go on vacation? San Vito lo Capo last minute, the ideal solution.
We care about the needs of all our guests. We understand well what it means to organize holidays at the last minute together with the difficulties that are encountered: exorbitant prices, being satisfied with the most uncomfortable and distant accommodations.
Precisely for this reason we have decided to help you organize your last minute holiday!
With our last minute offers for San Vito lo Capo you can stay in a comfortable Beach Apartments, right in front of the sea, without having to compromise or be satisfied..
Every morning you will open your eyes and the beach with its golden sand and crystal clear waters will be ready to give you a good morning. At any time of the day you can take a refreshing dip and in a few minutes on foot you will already be in the heart of the center of San Vito.

Book your weekend in San Vito lo Capo : you can stay for three nights in our Beach Apartments at the exclusive price of € 400, with all the services that the apartments offer, in a central and convenient location and in a dream location..
Hurry up though, because this fantastic offer will expire on August 6th and the apartments are limited. Do not miss this opportunity and take advantage of it now.
Your vacation is waiting for you! Contact us for activating the promotion.
The offer is valid up to 6 August 2022
Do you need help? Contact us for information and assistance
I TRE GOLFI is pleased to provide tourist information and assist ON-SITE users in planning their vacation in San Vito lo Capo and western Sicily.