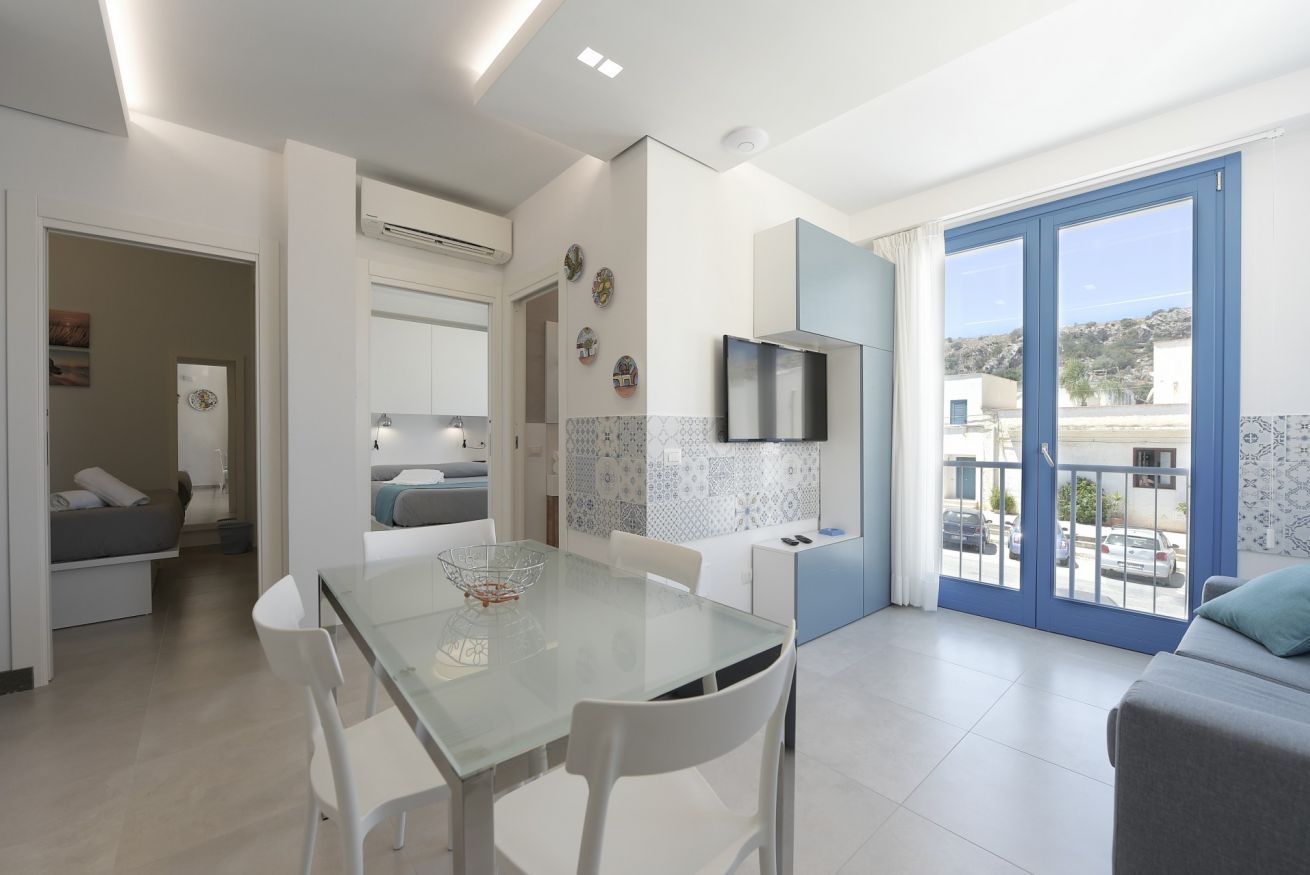 Isule Apartments - Isule Apartments Trilo on first floor
Residence - Via Piersanti Mattarella 40 San Vito Lo Capo
4 Guests
2 Bedrooms
1 Bathroom
60 m2
1° Floor
Three-room air-conditioned apartment with two bedrooms, kitchen / living room, a bathroom, located on the first floor of an independent living unit.

INSIDE: Entrance to living room / kitchen with dining area and relax area. Two bedrooms, double and twin with two single beds, bathroom with shower. From an internal staircase to the house, from the living area leads to the shaded private terrace / solarium, furnished with deck chairs and hydromassage pool. Fine furnishings and finishes, bright and comfortable spaces.
EXTERIOR: Architecture of very recent realization, result of a happy reinterpretation in a modern key of the typical island style in shades of pure white and blue. The apartment, while remaining a separate unit, external, is part of a residential complex no more than 40 meters away with the availability of extra services such as private parking with daily rate.
LOCATION: Residential context close to the historic center, one hundred meters from the beach and the main promenade.

TWO GOOD REASONS TO CHOOSE THIS SOLUTION FOR YOUR HOLIDAYS:
1- Specially designed spaces to guarantee comfort and functionality according to the modern principles of living.
2- Ideal for anyone wanting a relaxing holiday a few steps from the sea.
Check-in

15:00 - 19:00

Check-out

10:30
Location
Via Piersanti Mattarella 40 San Vito Lo Capo
When do you want to stay at Isule Apartments Trilo on first floor? Enter dates and number of guests and search to view rates.
Reviews
Luca Frenguelli
Qualità
Ottimo appartamento a san vito lo capo affittato tramite questa agenzia. Abbiamo optato per il trilocale Isule Apartments, Posto ad angolo in pieno centro, bene attrezzato, pulito e la vasca idromassaggio sul terrazzo una chicca.
Francesca Bulzi
Tre giorni da favola
La casa era super funzionale e la terrazza belissima. Ci hanno fornito il pass per il parcheggio per tutti i giorni del nostro soggiorno e visto che a San Vito non c'è mai posto, non è roba da poco. Super gentili... già prima dell arrivo ti forniscono un sacco di informazioni. Consigliata. Ci torneremo.
Sibylle Oswald
Isule Apartments Trilo 1 primo piano
The appartement is really great and offered everything we needed. It is very modern and new and very close to everything (Beach, Restaurants, Supermarket) The Wlan was not working but Valetina sent us a new connection and Password immediatly.... thank you for all!! We will come back again !
Michela Ruffoni
Isule Apartments Trilo 1 primo piano
Appartamento nuovo molto bello e sopratutto molto confortevole per 4 persone.La parte che mi è piaciuta di più è il terrazzo sul tetto attrezzato con vasca idromassaggio lettini , tavolino e poltroncine; e la presenza di lavatrice e lavello sempre in terrazza molto comodi.Appartamento adiacente al centro e alla spiaggia e presenza di parcheggio.
Do you need help? Contact us for information and assistance
I TRE GOLFI is pleased to provide tourist information and assist ON-SITE users in planning their vacation in San Vito lo Capo and western Sicily.