Holidays in San Vito lo Capo? Discover Baia Santa Margherita
Sicily is a land that will always be able to amaze you. Its cities are teeming with stories, legends and unique architecture, its mountains offer indescribable views and its beaches take you back to a tropical ambient with its clear and crystalline waters. Thus, among its marvelous panoramas, this paradisiacal stretch of coast, the beautiful Baia Santa Margherita, makes room in Western Sicily.
It is located just before arriving in the famous seaside resort of San Vito lo Capo, just after Castelluzzo, and finds its space in the gulf that from the mighty Monte Cofano, reaches the cliffs of Cala Mancina. A corner of paradise on earth set in a picture of Mediterranean shapes, colors and smells, with pristine waters.
An expanse of soft and golden sand bathed by crystalline and clear waters, an alternative solution to the crowded beach of San Vito lo Capo, which especially in the period of July and August leaves almost no space, which will give you moments of relaxation and well-being without equal. Baia Santa Margherita Castelluzzo is a must for those who want to visit the most beautiful beaches in Sicily.
This beach is set in an unforgettable natural setting, immersed in the magnificent surrounding nature. Here you can forget commitments, routines, monotony, leaving room for total rest, for the mind and body.
The beach is free and not equipped, so we recommend that you bring everything you need with you: water, beach towel, a snack, cream to protect you from the sun and a mask, so you can explore and discover the magnificent seabed. In a wonderful place like this, you won't need anything else.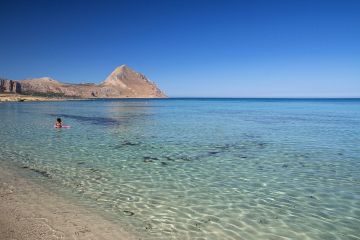 How to get?
The simplest solution is definitely to rent a car. In this way you will reach Baia Santa Margherita in about 10 minutes and you can take everything you need with you. If you prefer to travel light and carry only the essentials, by renting a scooter you can travel without the hassle of traffic, which makes itself felt in the summer. The solution that allows you to move from the city and visit all the neighboring areas while remaining in close contact with nature, is to rent a bike.
Upon your arrival, you will find a parking lot a few steps from the beach and a very comfortable train that will accompany you to the coves.
A journey immersed in nature and breathtaking views, with the scent of nature and the unforgettable colors of the sunset.
We absolutely recommend that you book your apartment in San Vito lo Capo and drop by!
Do you need help? Contact us for information and assistance
I TRE GOLFI is pleased to provide tourist information and assist ON-SITE users in planning their vacation in San Vito lo Capo and western Sicily.