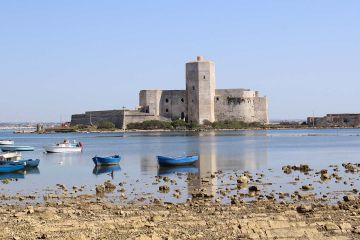 La Colombaia, also known as Torre Peliade or Castello di mare, is located on a small island at the eastern end of the port of Trapani. It is 32 meters high, made up of four superimposed floors. It is one of the best examples of military architecture in Sicily.
La Colombaia is probably the most ancient and known, together with the ancient Ligny tower, symbol of Trapani. There are several legends related to its first construction, although historians are almost all in agreement in assigning its foundation to Amilcare Barca, the father of Hannibal, the leader capable of crossing the Alps with elephants and defeating the Romans. The opportunity was given by the first Punic war.

During the Middle Ages it was rebuilt by the Aragonese in its present form octagonal. It was enlarged around 1400, and became a fortification during the reign of Charles V, to defend the city from raids barbarian.
The last transformations underwent them in the seventeenth century by order of the viceroy Don Claudio Lamoraldo, Prince of Ligny. On the external wall of the tower you can still read the plaque that was affixed in 1671 by the Prince. Dismissed the military destination, it was transformed into a prison by the Bourbons, after the riots of 1821 and until 1860 it hosted the patriots Sicilians of the Risorgimento, including Michele Fardella, baron of Mokarta, who was mayor of Trapani in 1861.

It was used as a prison until 1965, when the new prison in Trapani was inaugurated, it then fell into a state of neglect. In 2009 it was identified by the Fondo per l'Ambiente Italiano as a place of the heart of the Italians, since the monument in a state of dilapidation and abandonment, was devoid of restoration work. It has recently been restored and, thanks to the contribution of the "SALVIAMO LA COLOMBAIA" Association, it can also be visited inside.
You can visit Trapani and the Colombaia by renting a comfortable car in San Vito lo Capo. Set off to discover Western Sicily.
Do you need help? Contact us for information and assistance
I TRE GOLFI is pleased to provide tourist information and assist ON-SITE users in planning their vacation in San Vito lo Capo and western Sicily.