A social mixer, a festival that with its stalls and events organized during the days, manages to amalgamate and unite people and cultures from all over the world and with all their differences, from culture to cuisine, but with a common denominator unique for all: couscous.
This year, in particular, we will have the pleasure of celebrating the 25th edition, which for all these years we have been proudly offering and is being expanded from time to time, with increasingly important stages and guests of a certain importance. It is no coincidence that San Vito lo Capo has been named the world capital of Cous Cous!
The couscous festival is also made special by its wonderful location: a small strip of land that welcomes great emotions among its streets, perfectly nestled between two wonderful reserves, mountains and crystal clear waters. San Vito has always welcomed people from all over the world, and today it continues to do so thanks to the couscous festival, which unites all diversity and transmits peace, love and brotherhood.
An event not to be missed, to be experienced and savored at any time! If you would like to be there and not miss this magnificent event, you still have time to book your apartment and fully enjoy every moment of these wonderful days!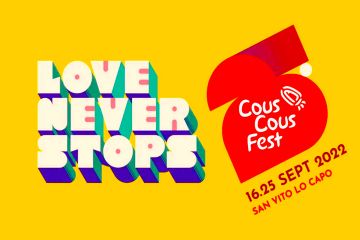 The Festival program
From September 16th to 25th there will be many activities and attractions not to be missed, starting with the famous guests that you can hear and see every evening and ending with the competitions that will take place among the stalls.
For example, the Italian Championship will take place, which will decide the winning chef who will be able to participate in the World Championship to represent Italy. In addition, 4 young students from hotel institutes from all over the nation will be able to compete for the place of those who will help the Italian champion in the world championship.
After the Italian Championship, they will kick off the Cous Cous World Championship, in which chefs from 8 different countries will compete by cooking live on stage for the technical judges and popular judges, winning the place of Cous Cous World Champion. !
A unique and unforgettable experience, both for those attending the event and for guests who will taste all the excellent dishes.
If you don't know how to reach San Vito lo Capo cous cous fest, you could opt for a comfortable car rental or a transfer, which will take you from the airports to the town. You will have a plate of couscous in your hands in no time.
We are waiting for you!

Do you need help? Contact us for information and assistance
I TRE GOLFI is pleased to provide tourist information and assist ON-SITE users in planning their vacation in San Vito lo Capo and western Sicily.