Eating in San Vito lo Capo
One of the reasons why Sicily is so famous is the food! Typical Sicilian cuisine is famous all over the world: from cannoli to pesto alla trapanese, from Sicilian cassata to cous cous. And every year, our cuisine, brings many tourists to approach this land to try the intense flavors that distinguish it. Let's see together what to eat in San Vito lo Capo so as not to miss any delicacies.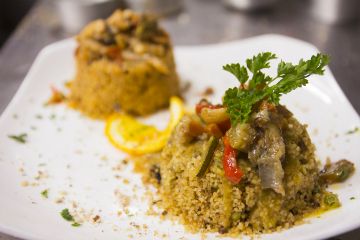 Cous Cous
The first thing to eat is definitely the Cous Cous. This food is made by steam cooking grains and small agglomerates of durum wheat semolina and it is possible to season it to your liking. The procedure is quite long since "nocking" the semolina, or giving it that shape that small grains have, and cooking it two or three times takes a long time, but it is definitely worth it.
Trapanese couscous is cooked in a perforated terracotta pot and, once finished, the condiment used is agghiotta: a mixed fish broth of red scorpion fish, black scorpion fish, grouper, St. Peter's fish, vopa, gurnard, luvaro, eel, shrimp, scape, tomato paste and a strong presence of Nubian red garlic.
A unique delicacy!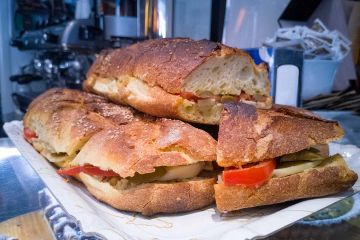 Pane Cunzato (Seasoned bread)
Many versions of this dish are made but the original is only one!
Let's start by saying that it is a poor dish and was created to use what you had at home without having to spend any more money: a little cheese, some anchovies, some olives. What today we would call " empty fridge ".
To date it has become the dish par excellence of Street Food together with arancine.
Tradition has it that it is stuffed with plenty of extra virgin olive oil, primosale, tomatoes, oregano anchovies in oil. However, there are numerous variations that are found in the territories of Sicily. Some add dried tomatoes, others baked ricotta, still others fried eggplant.
Good and nutritious, cunzato bread is a must in typical Sicilian cuisine!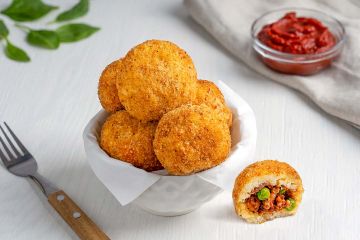 Arancine
After a diatribe that lasted years between eastern and western Sicily over the name of the arancina or arancino, we are of the opinion that it is only a different product, but not in the content, in the form!
Arancina is a sphere of rice traditionally stuffed with meat sauce and its external breading recalls the orange peel from which it takes its name, as well as for its shape.
The arancino instead has a more pointed shape unlike the arancina.
So know that in the western area of Sicily it is called arancina, on its opposite side, instead, arancino.
Don't worry, no one will get mad at you if you call it the wrong way, but rest assured that they will probably correct you with a smile.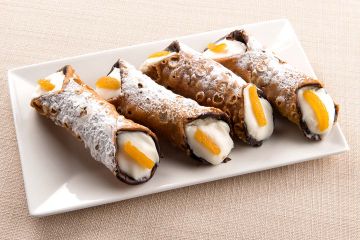 Cannolo
How can we forget that dessert that has become the symbol par excellence of Sicily: the Sicilian cannoli.
Many make many reproductions but the only real cannoli you can eat only in Sicily.
The real traditional cannoli is made with a tube-shaped fried wafer, very crunchy and crumbly, with sheep ricotta filling. Its natural evolution was the addition of candied fruit, vanilla flavoring, cinnamon or chocolate to the ricotta filling and finally the chocolate chips on one side and candied orange on the other. However, it is possible to find them with other variations to satisfy everyone's palates. The cream can be replaced with custard, buffalo ricotta, chocolate cream or pistachio cream.
The cannolo remains good in all its variations, but if you want to try the typical Sicilian dessert we advise you not to stray from ricotta!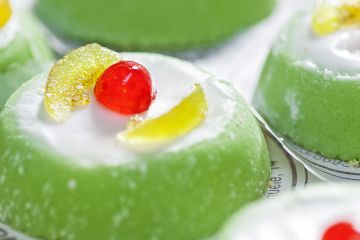 Sicilian Cassata
The Sicilian Cassata has numerous variations due to its troubled history.
Tradition has it that its first version was born in Palermo, where a shepherd decided to combine sheep ricotta with sugar or honey and called this dessert "quas'at" (bowl). Subsequently in the Palermo court, the cooks wrapped the dough with shortcrust pastry to bake in the oven, originating the Cassata in the oven.
Later again the sponge cake was discovered and they made this other modification, also adding candied fruit and chocolate chips.
Finally, when the royal pasta was invented at the Martorana convent in Palermo, or a dough made with almond flour, this last modification was made that made it what we know today as Sicilian Cassata.
In summary, it is made up of ricotta, sugar, real pasta and sponge cake, embellished with chocolate and candied fruit.
A truly exquisite dessert that is worth trying!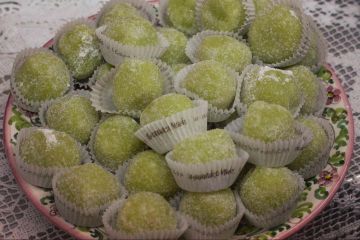 The other delicacies
Other unmissable delicacies are: almond sweets, made with almond flour and sugar; granita with brioche with tuppo, which is not the croissant they know in Milan, but is a soft brioscina without filling; bread with panelle, pancakes made with chickpea flour.
Everything you will be able to taste in Sicily will leave you surprised, everything is really delicious and made with extreme love.
Book your apartment and come to Sicily to try all these goodness!
Do you need help? Contact us for information and assistance
I TRE GOLFI is pleased to provide tourist information and assist ON-SITE users in planning their vacation in San Vito lo Capo and western Sicily.