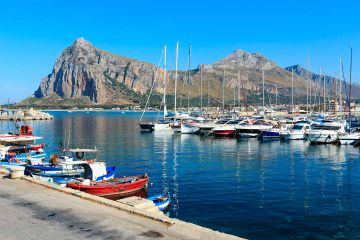 The port of San Vito Lo Capo is one of the safest ports in Sicily, located in a bay sandy and semicircular closed between Capo S. Vito and Punta di Solanto, as well as one of the most characteristic and suggestive. It is a small port rather than a real port. From the North Pier, another 90 m long pier branches off to the SW. However, it is also an excellent refuge for large pleasure boats.
The numerous fishing fleet of San Vito lo Capo moor at the docks of the two piers, but there is also room for sailboats and motorboats, which are welcomed with the utmost kindness by the sailors locals, always willing to provide advice and help to boaters: the affectionate hospitality of San Vito fishermen is one of the many gifts that this land offers to tourists.
The port is completely sheltered from the winds of Tramontana and Maestrale ; Grecale and Libeccio do not cause difficulties; the Scirocco is annoying only for boats moored in the first part of the western pier; the Greco and Levante and even more the Scirocco and Levante can create some problems in winter in case of very strong wind, but these are very rare conditions and in any case it is enough to reinforce the moorings and put a few more fenders to sleep peacefully.

The marina has 400 berths on 6 piers and also offers services of light, water and night surveillance, the depths up to eight meters deep allow the mooring of even the largest yachts.
Do you need help? Contact us for information and assistance
I TRE GOLFI is pleased to provide tourist information and assist ON-SITE users in planning their vacation in San Vito lo Capo and western Sicily.