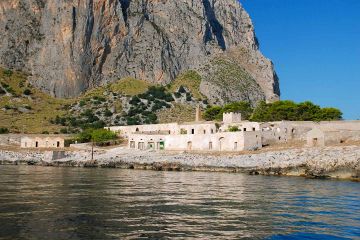 The "tonnare" in Trapani have been the most prosperous and important in the Mediterranean over the centuries. The Tonnara of San Vito Lo Capo is located at the western end of the gulf from Castellamare, in the heart of the sea called "del Secco", close to the Monte Monaco, on an overhanging backdrop.
The dry trap, now no longer in use, was a structure at the service of the trap at sea, equipped with warehouses for the conservation of nets, shelters for boats and blocks of flats for the accommodation of the crews, as well as a factory for processing of the tuna.
The first official news of the trap of San Vito dates back to 1412, when King Ferdinand allowed the fishing of tuna in the San Vito sea. A few meters from the building there are the remains of ancient cetariae tanks, dating back to the 4th century BC. C., in which fish were processed, including tuna, to make the precious garum (fish sauce), much appreciated by the Romans.

The factory has not been in operation since 1920. The current property has never changed the structure, only interventions have been made from restoration or consolidation, even if today the buildings are in a state of neglect. The nets were lowered very close to the shore and fished for tuna coming from the East that skirted the rocks of the Zingaro and ate the shoals of fish blue very present in the Gulf of Firriato.
La Tonnara del Secco appeared on television in some episodes of "Il Commissario Montalbano", in particular in "Il Giro di Boa", and in the fiction "Cefalonia" where it was transformed into a barracks.
During a holiday in San Vito Lo Capo, at any time of the year, the tonnara del Secco is one of the places not to be missed. Rent an apartment in San Vito lo Capo and visit the Tonnara with a comfortable e-bike excursion at sunset.
Do you need help? Contact us for information and assistance
I TRE GOLFI is pleased to provide tourist information and assist ON-SITE users in planning their vacation in San Vito lo Capo and western Sicily.