Here's what to do in San Vito lo Capo: Trekking Grotta dei Cavalli
During your holidays, you will be spoiled for choice on what to do in San Vito lo Capo. Among the various options we offer you a beautiful excursion on foot to discover the suggestive Grotta dei Cavalli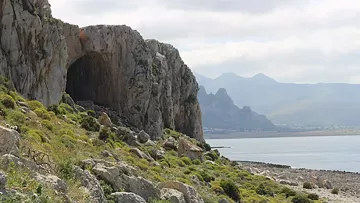 It is a corner of history that tells the lives of those who, in 3000 BC, lived in our own lands, surrounded by nature and with unique landscapes.
Trekking in San Vito lo Capo and its surroundings turns out to be one of the most beautiful experiences to do, reaching the most beautiful destinations with unobtainable natural frames.
Our route starts from the beautiful village of San Vito lo Capo, once lived by fishermen and today busy with tourists, located west of the Gulf of Castellammare in its limestone promontory, a stretch of coast with a thousand wonders. We take Via Faro, the road that runs along the beach with the sports fields, continuing straight until we arrive at the majestic San Vito lighthouse, which since 1859 has protected small boats and large ships from rocky and pointed bottoms in which Roman ships were shattered., Phoenician, Arab, Norman. Passing the lighthouse, we continue on a path that proceeds along a beautiful cliff that proudly flanks the limestone cliff from which caves and coves dating back to interglacial eras arise.
Among the various caves and inlets that can be found in this stretch of coast, the Grotta dei Cavalli is the most suggestive. Its elevated position offers a beautiful view of the coast and all the surrounding nature and the large boulders collapsed from the vault to its feet make the climb more fun and dynamic.
But its beauty lies not only in the scenic route that we are going to do together, but in the stories that guard its rocky walls. A pictorial complex with many elements painted in red from the Neolithic era welcome us to the right of the cave with two groups of representations. The first is certainly the largest and presents abstract figures with geometric aspects and complex linear articulations. While the second, less rich, includes filiform anthropomorphic figures, including some with a double trident and one in particular depicting an archer hunting a zoomorphic figure.
After getting lost in admiring so much beauty, you resume your journey on the same path as the outward journey until you reach Via Calamancina and then the port.
Other information
Lenght: 7,27 km
Duration: 3 h
Difficulty: T (Tourist)
Maximum altitude: 42 m
Minimum altitude: 4 m
Ascent height difference: 75 m
Descent height difference: -75 m
Maximum slope uphill: 1,03%
Maximum descent slope: -1,03%
Note: Trekking boots required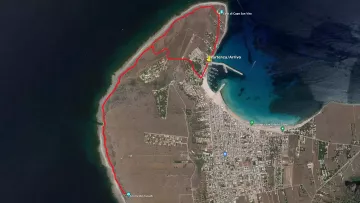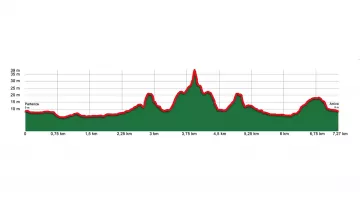 General notes for excursions
Before departure
A short meeting will be held at the meeting place with the participants to explain the planned itinerary in its various aspects and remember the anti-contagion rules from Covid-19 in force. We remind you that all participants must be equipped with a mask (to be worn in case of regulatory need) and disinfectant gel. In case of attendance of more than 20 people, the committees will be divided into 2 groups and each group will be assigned 2 accompanying persons who will have the task of guiding the excursion and supervising compliance with the membership rules.
Equipment
Equipment
To participate in the excursion it is mandatory to have trekking boots, with non-slip treaded sole (Vibram type), medium / high ankle, waterproof (Goretex type recommended); then it is necessary to have a mountain backpack, (recommended with padded shoulder straps, backrest with structure possibly detached from the back), with unloading belt at the waist. For day trips the right capacity is 20-30 liters (must be large enough to hold food, water, anorak, fleece sweater, hat, gloves, headlight, whistle, first aid kit, personal medications and more), in general it should not go under the butt or over the head. For multi-day treks, however, a larger backpack (40-50 liters) is required. The use of trekking poles is recommended and recommended as they increase safety.
Clothing
In the mountains you have to dress according to the season, but always be ready for changes in the weather. So, in addition to the clothing you wear (comfortable and resistant light trousers or bermuda shorts - no jeans! -, socks, light and breathable short-sleeved t-shirt, long-sleeved shirt) you must always put material for the sun in your backpack (sunglasses, sun hat with visor, sunscreen, sunscreen lips), cold (fleece sweater, gloves, tubular fleece band), wind (light and waterproof windbreaker), rain (cape, or waterproof jacket and trouser covers, leggings). Of course, if you go to the mountains in winter you must bring warm and warm clothing and do not forget gloves, winter hat, headband or scarf for the throat.
Diet
Finally, do not forget to always bring a bottle with water (at least 1-1.5 liter, no carbonated drinks! In winter, hot tea is recommended), an energy snack (dried fruit, cereal bars, chocolate), food for lunch at bag (sandwiches with cold cuts, cheese, parmesan, fruit, etc.) picnic kit (non-polluting ).
NOTE: avoid drinking milk in the morning, as it can cause stomach problems in the car/bus.
Below you will find the PDF of the Disclaimer of Liability Declaration, to download and fill in.
Still wondering what to see in San Vito lo Capo? With I Tre Golfi Accommodation you will be spoiled for choice. We are waiting for you to discover these wonders together.
Do you need help? Contact us for information and assistance
I TRE GOLFI is pleased to provide tourist information and assist ON-SITE users in planning their vacation in San Vito lo Capo and western Sicily.